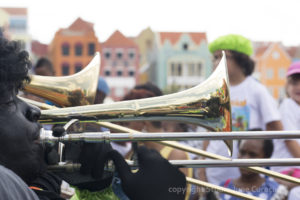 Well, this weekend they officially arrived: our beloved Sinterklaas and his helpers. Saturday November 18 Curacao celebrated their arrival at Brionplein in Otrobanda. If you don't live in the Netherlands or on a Dutch Caribbean Island, you might not be familiar with this tradition. My pleasure to explain what these guys are doing! Sinterklaas is a great man, really. We don't know his exact age (rumors go he's even more than hundred years old), but his energy and willpower are to be admired. Every year, from the second week of November until December 5, he is on the streets with his white horse and his helpers to bring presents and candy for the kids. Showing up unexpectedly at houses, supermarkets, fancy fairs and lots of other places. We could be jealous of the fact that he can be present in the Netherlands and on Curacao at the same time! Believe me, a lot of us here – with family and friends overseas – would love to have those magic super powers.
December 5
The magnus opus of all this takes place at December 5. Sinterklaas celebrates his birthday by handing out presents to all kids (whose parents acknowledge his existence ;-) ) The fun part is that a lot of all this happens secretly; Sinterklaas sends his helpers to deliver all gifts after sunset, they knock on doors, leave the gifts and run away. You can imagine the excitement in the house when this happens!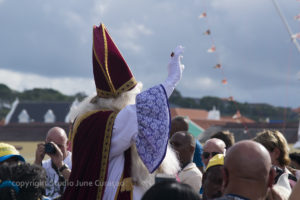 Resemblance
Yes, our Sinterklaas does have quite a resemblance with Santa Claus. In fact, they even have kind of matching outfits and the same characteristic white beard. Maybe that's why the people who were taking care of the festivities this weekend, thought some advertising would be legitimate. After all, Santa Claus does a really great job promoting Coca-Cola in winter wonderland. This year, on Curacao there were not only helpers playing the trombone and dancing and waving, some of them were wearing advertisement for a restaurant. Hmm… to my humble opinion, they were playing quite a bit out of tune here!
Belief
Sinterklaas is here for kids from let's say, age 2 until 8. They believe in this fairy tale and enjoy every minute of it. So, can we just leave it at that? Just celebrate childhood and its unconditional belief in something good? Presents and candy are all you need in Wonderland. No need for restaurants there.