Time is not the enemy. It was the only quote I came up with that did not vanish again, after I challenged myself to create a brand new one liner. A quick check online learns that it is not completely new and never said before. But the thing is, I gave it quite some thought, instead of just using a phrase I ran into on Instagram. Therefore, it says something about me and the phase I am apparently going through. Oh, if they weren't that ugly, I'd put in a smiley right now.
Time should be my friend
Time is not the enemy, but jeez, it really feels like that almost the entire day. When I check my watch, it hardly ever gives me a good feeling. Always trying to get as much as possible done. Trying to squeeze 20 hours of work and chores into, let's say, the 16 hours we're awake. Well, living with an enemy is clearly not a good thing, so I realize I must make this fellow called time my friend again. Guess it takes long-life investing in this precious relationship, it is not an easy one. I'm convinced that most of us nowadays run too fast, and take too little time to enjoy what really matters. I am no exception.
How I can make time stop
Fortunately, something crossed my path a few years ago that helps me take breaks. When I was talking to a coach about my professional life, she gave me the advice to start an art journal. Since creativity is the main factor in my work, but isn't something you just switch on and off, I was longing for a way to stimulate the creative flow. And there it was, my solution.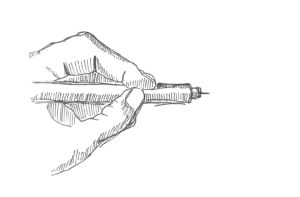 Art journaling is not for softies
Keeping an art journal is liberating. Yes, you can fill the pages with pink flowers and happy text. But, far more important, you can use it as your safe place to let go of whatever you want. There's enough space for experimenting; with words, techniques, materials and colors. Lots of blank pages to smash your bad mood on, to make mistakes, doodle and scratch. The key to the success of art journaling? The promise you make to yourself: this is for me, I don't have to share my creativity with anybody, unless it has turned out really great and I'm proud of it. The promise that every mistake will stay in the book, no pages teared out. Because especially those pages give great insight in what kind of day you had, and are available for improvement on a better day. Or they stay the same, and will tell you one day how you have developed in a certain direction. And if not that, it will certainly remind you of the little and big things that happened in your life. All of it is relevant and worth to capture. So: art journaling is not for softies. It's for everybody. Just wanted you to know that.
How to start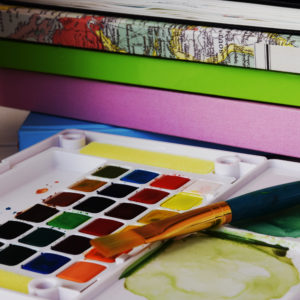 Feel like trying it? You should! Find yourself a notebook; preferably with blank pages, but if you only have lined paper, start with that. Get a pen, some pencils, even some paint maybe. And then, just start. Don't be afraid, nobody is watching you. What's in your head today? What could be the key word for this week? What made you happy or sad? Try to draw, use some words, choose some colors. By the way, the colors you go for instantly will say something about your mood, so it's always the right choice. There's no good or bad!
Materials and where to go
You can start with very little material. However, when you get the hang of it and start creating more and more stuff, you might want to add some extras to your supplies. Try some watercolor, crayons or brush pens. You can add some spray paint or use stencils. Here on Curacao, Diamonds is one of my favorite stores. They have a wide variety in paint, brushes and pens. In fact, I think it is the best stocked place on the island for creativity purposes. If you know another shop like that, please tell me your secret! However, one thing I'm missing here, is the Moleskine watercolour books. For me, it is the best paper to work with, when using watercolor paint. Have been buying them in the USA and the Netherlands, but no luck here yet.
Another great store to visit it Living Happy Conceptstore; sometimes they sell great notebooks and there's lots of nice stuff with quotes and illustrations. Positive vibes all around. I always feel inspired after leaving the place. You know, sometimes, just one little thing can change a lot. The Micron pen was such a gamechanger for me. Discovered this pen during one of my first courses online, and it is here to stay. Waterproof, and therefore great in combination with watercolor paint. You can find them at bookstores on the island and don't cost much. I would say, go out and try, but it is all about finding your own style. At least, if you want to. If you just want to clear your head every day, an art journal is great for you too. So, don't wait any longer, let go of your need of perfection and start filling those blank pages!
If you would like to now more about art journaling, you can also check out my Facebookpage Peace of Art. I haven't posted much recently, but hopefully I will have more time for that soon. There we go again, time is my friend. Smiley.