When I thought about writing this blog, the first thing I did was start a search for numbers about traditional mail versus digital. Well, very soon I realized it was useless… Who needs numbers to be convinced that digital has taken over the world of correspondence?
What I'm really curious about, is how you feel about that empty mail box next to your door. Beside the newspaper and some bank statements, nothing much going on there? I don't know about you, but I actually kind of miss it the good old post card. I do have some loving family and friends who know about this and send me one occasionally, and I am grateful for that. To me, a written card is like receiving a little present. After reading, I won't swipe it to the left or put it in my trash can. No, I will put it on the fridge and smile another 25 times when I see it.
Digital is here to stay, I know. And I can honestly say I adapted and – compared to other people my age – keep up pretty nicely with all the apps, online tools and social posts. However, I do want to plead for more real mail. Let's give those postmen something to work with!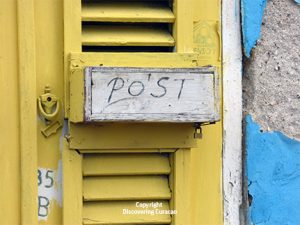 Here in Curacao, mail is not delivered every day. Letters and cards can be on the road for a while. Sending packages abroad to family or friends is something that takes effort; waiting lines can be long, it is quite expensive and it might take a few weeks before arriving. To be honest, after all these years, I'm still not sure about the local mail delivery. I'm going to send my friends a post card and find out!
Do you love mail too? Surprise a friend or family member, send something today. Most book stores offer cards and stamps, and a mailbox is not that far away (most hotels have one, van den Tweel supermarket has one, Mensings Caminada has one). If you would really like to receive more mail yourself, consider mail swapping. Many minds like me and you send cards to each other. There's lots to find on the internet, like www.postcrossing.com
Would you like to get a personal card from me? Just send a message to [email protected]. I'll be happy to send you one. Have a great day!